New Advances Across Industries are Set to Change the Way You Shop, Pay and Live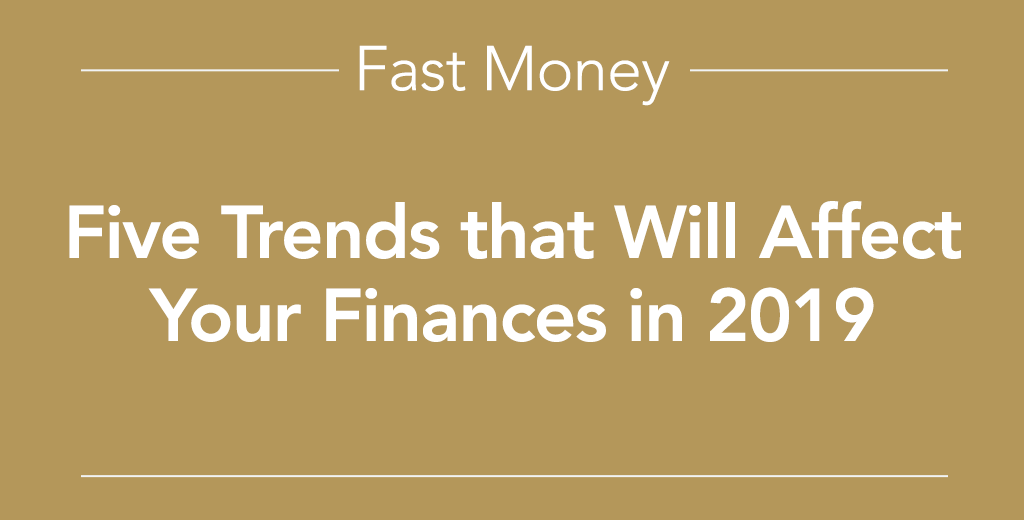 Technology is growing at a faster pace than at anytime in history. A combination of machine learning, artificial intelligence (AI) and digitization are expected to collide in 2019 to make life more convenient than ever. With that in mind, here's a look at five tech trends that will impact your finances in 2019, and some smart advice for how to make these new advances work harder for you.
Payments will be Easier than Ever
From online to mobile to in store, companies are devising ways to make it more convenient to pay for things. Imagine being able to use your voice to order more popcorn right from your microwave, or shopping in a store without ever having to wait in a check-out line. But all that convenience comes at a cost. When it's easier than ever to buy things, you also need to make it easier to save. That means setting a budget, making savings goals and transferring money to your savings and retirement accounts at the beginning of every pay period. It's better to pay yourself first, instead of trying to save at the end of the month, when you've had plenty of opportunities to overspend.
Smarter Security Technologies will Take an Active Approach to Stopping Fraud
Every year hackers and identity thieves are getting smarter. That's why it's more important than ever for people to safeguard their finances and identities. AI and machine learning are making it easier for banks and financial institutions to spot and stop fraud. But individuals need to do their part by signing up for financial services that include robust features like identity monitoring and resolution services. It's also important to check your credit report annually. A Pinnacle Bank Diamond Secure Account is a great option for customers looking to simplify security while enjoying advanced financial features as well.
Technology will Make Banking More Personal
The demands of tech savvy Millennials and Gen Z are driving innovation in just about every industry, including banking. Expect banks to launch more mobile and voice activated functions to better accommodate customers. Analysts also anticipate improved mobile services, like check deposits, account management and peer-to-peer payments. In 2019, banking won't just be getting more convenient, products and communications will be getting more personalized to your needs.
You'll be Able to Get Just About Anything Delivered – but Should You?
From lunch to groceries to clothing, companies are bypassing traditional retail locations and sending things directly to consumers. So, is it better to save money by running to the store, or better to save time by having something delivered? The answer is complicated, but one way to start is to use all that extra convenience to accomplish a goal that helps enrich your life or further your career. For example, you could use the time you save having groceries and food delivered to take online courses to advance your career. Which leads us to the next trend.
Online Education will Make Advancing Your Career More Convenient
Organizations like EdX and Coursera are making it possible to take courses, earn certificates and even get degrees from well-known accredited universities online. With online education becoming more accessible and affordable, it's possible to advance your career or gain the skills to start a new one in your spare time. Online education accessibility is expected to expand rapidly in 2019, creating opportunities for you to grow personally and financially.
In 2019 more technologies will be competing for your time, your money and your attention. By setting clear financial goals, proactively saving and considering which technologies will most help you live the lifestyle you envision, you can ensure that new technologies are working for you. And no matter if you prefer banking on a phone, a computer or face-to-face, Pinnacle Bank is here for you.