It's not just easier to pay with your Visa® card, it may be smarter, too. From building business credit to tracking expenses to simplifying tax time, a business credit card can provide cash and open doors. And while there are lots of credit cards out there, there's only one from us. Every Visa® Card we issue comes with the personal service you know us for.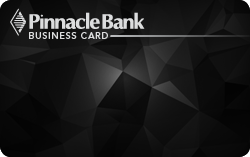 If you are currently an Online Banking customer, you can now access your business credit card information through PinnBank for Business. Please contact your local cash management representative to get set up today.
If you do not currently use PinnBank for Business Online Banking, log on to access your credit card accounts.
For Credit Card balance inquiries, call 1-855-325-0903. To report a lost or stolen Credit Card, call 855-325-0903.
This card comes with a competitive, 12.90% fixed, annual percentage rate, but since it's a business card, all holders pay in full each month.
To help control costs, you can set an individual limit for each employee, if you like. And you can access your account online at any time—including all cards—with one login.
To learn more about the card or for full account details, contact us now.
Features
Smart
Competitive interest rate
Global
Widely accepted around the world
Secure
Extensive fraud protection controls
Online Chat
Chat with an online representative.
Start Chat
Contact Us
Use our secure form to contact us.
Contact Us