Home Renovations: Paying with a Credit Card vs Home Equity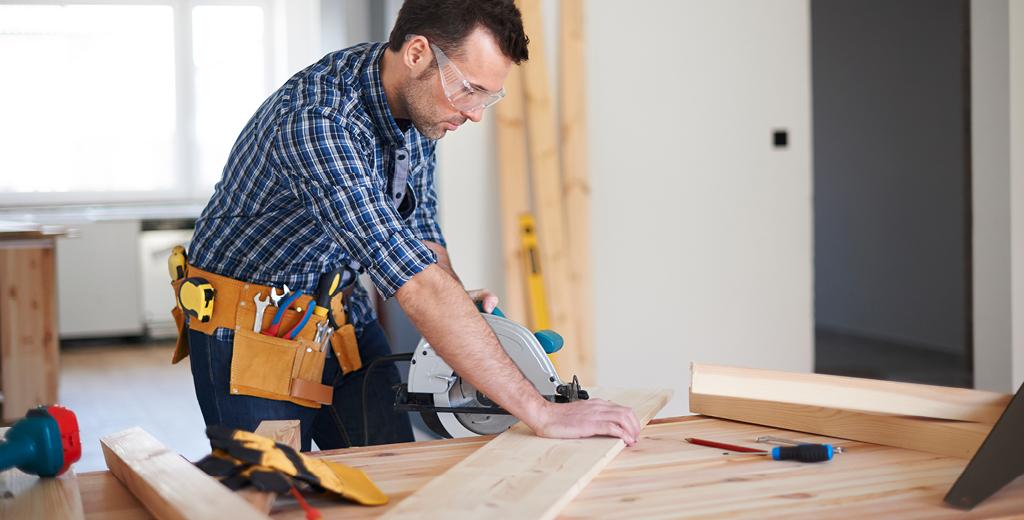 Many of us have things we love about our home, and others we're not so fond of. Whether it's restoring your home's original hardwood floors, creating a backyard oasis, or replacing your outdated kitchen with one of your dreams – you're probably contemplating how to make it happen.
While you may instinctively reach for your credit card to pay for these expenses, is that really the best way to pay for home renovations? It depends. Let's explore some of your financing options.
Paying with Your Credit Card
One of the most obvious reasons to opt to use your credit card is you might already have one. It's just as simple as opening your wallet. But, are there other advantages?
Credit cards are a form of unsecured debt, so they often have a higher interest rate than other types of loans. If you carry over a balance from month to month, that interest can add up fast. However, if you plan to pay off your balance right away, there's no interest you'll have to worry about.
If you have a credit card that earns rewards or offers discounts, you may be able to redeem them to cover costs related to your project. Just make sure any interest or fees don't outweigh your potential savings.
It's important to keep in mind the cost of your potential project. Make sure you are not over leveraging your credit card in a way that will negatively impact your credit score. It is generally recommended to keep your credit utilization below 30% of your credit limit. For example, if you have a credit card with a $10,000 limit, you could theoretically have up to $3,000 for your renovation.
This might be more than enough to tackle a small project. However, when it comes to high ticket items this may not cut it.
Using Your Home Equity
Another way to fund your home renovations is by tapping into the equity available in your home. Essentially, home equity is the portion of the property that you truly "own." It's the home's current value, minus any amounts you owe on any mortgages or other liens against it.
The equity you own in your home increases as you pay off your mortgage and can also rise if the value of your home increases. Over the past couple of years, home values have increased substantially giving many homeowners more home equity.
Most lenders will let you borrow up to 80% of your home's value, minus the amount you owe. So, if you're house is worth $300,000 and you owe $150,000, you could borrow $90,000 for your home renovation project.
So, you could potentially borrow more money than you would be able to with a credit card.
You can utilize those funds for your home renovations by taking out a Home Equity Loan or Home Equity Line of Credit (HELOC). Both financing options are secured by your home, meaning they have a lower interest rate than unsecured debt, like a credit card.
The tradeoff is they take more time and planning to secure, including an appraisal in some cases. You'll also need a fairly good credit score and there may be origination and other fees. Also, keep in mind that your home is on the line if you do not pay it back.
Home Equity Loan
Sometimes referred to as a "second mortgage," home equity loans usually have a fixed rate and are issued in one lump sum. Depending on the term, you'll have anywhere between 5 to 30 years to repay it, and since it is a fixed-rate loan it is easier to budget for those payments as they will stay the same over time.
One thing to consider is that tapping into all your equity at one time can work against you if property values decline.
Home Equity Line of Credit [HELOC]
Instead of receiving your money in a lump sum, with a HELOC you have a certain amount of money available to borrow and pay back, but you can use as little or as much as you need any time during your draw period. You'll also only pay interest on the amount you take out, not the entire amount available in your credit line. An easy way to think about it is like a credit card.
A HELOC also has a variable or adjustable rate that changes over time. Which can make the payments harder to budget for.
It's important to have discipline when using your line of credit to make sure you do not find yourself saddled with large principal and interest payments during your repayment period.
As you can see, there is a lot to consider when choosing how to finance home renovation projects. It's important to shop around and understand your options before committing to one. Be sure to keep your short-term and long-term financial goals in perspective as you make a decision.
If you want to talk about your next project with a Pinnacle Bank lender, call your local branch today.
Loans and credit cards are subject to credit approval. Any rates, terms or limits used within this article are for illustrative purposes only and do not reflect those that may currently be offered by the bank.